Cellular Monitoring
About Fire Monitoring:
In 2010, a revision to NFPA 72 National Fire Alarm Code made it possible to replace your POTS (Plain Old Telephone Lines) with a cellular connection. This was a money-saving change for businesses which gave owners a quicker return on their investment.
Connect your existing fire alarm panel with a cellular communicator. Most towns on LI are allowing a single path to central station over a cellular connection, eliminating the need for POTS lines (Plain Old Telephone Lines). In NYC, the FDNY allows for communication to central station via a Primary Network connection and a cellular backup with 5 minute check-ins.
RELIABLE, SECURE & COST-EFFECTIVE
Fire: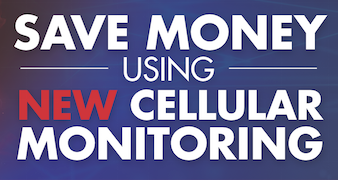 Now, there are ways to protect your building that are more reliable, secure and cost-effective.
• Cellular communicators transmit alarm signals directly to Central Station faster and more reliably than traditional POTS lines. Every hour a signal is sent to ensure communications between the panel and central station are operating normally. (NYC requires 5 minute check-ins)
• Get rid of expensive POTS lines that cost $50 each line per month! This add-on may be connected to an existing fire panel in different ways bringing new life to older, dial-up panels.
Security Monitoring:
• Cellular monitoring is more resistant to common threats. Burglars can cut traditional phone lines and natural disasters can knock out power. With cellular monitoring, you will always be connected.
Long Island
Many areas on Long Island now allow a single path of transmission for central station monitoring and approve cellular transmission. However, there are some areas that still require two paths of transmission; a primary and a backup. There are various combinations of communication paths that can be used to save you money so please contact us to see what your location allows.
5 Boroughs
Building owners are required to have TWO paths (or dedicated lines) for Central Station Monitoring:
1 Primary: Networked AND 1 Back-up: Cellular (5 minute check-ins)
OR
To See if you Qualify for this Cost-Saving Technology, Call 844-823-0747 Today!