We Specialize In:

• Designing custom fire alarm & security systems for commercial, industrial and institutional clients.

• Providing 24-hour radio-dispatched service for all major brands of equipment.

• Detailed full-service inspections that meet code requirements.
We Are Fire Alarm Professionals
Serving New York &
Long Island Since 1978


May 2013
SDM Names Briscoe One of Its "Top 100 Companies"

Security Distributing and Marketing has named Briscoe Protective Systems Inc. as one of its "Top 100 Companies" this year. The company moved up from 97th last year to 94th this year and will be honored at the SDM 100 Gala, which will take place June 20 at the Schermerhorn Symphony Center in Nashville, Tennessee.
Three Students Receive Bert Briscoe Memorial Scholarship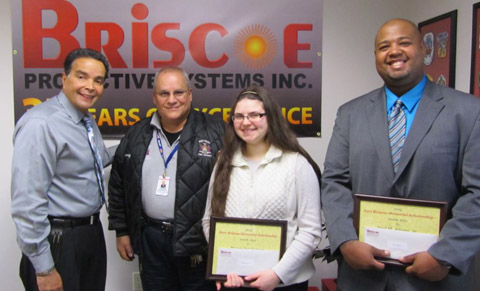 On April 3, Briscoe Protective Systems Inc. announced the winners of the Bert Briscoe Memorial Scholarship. The recipients are three students, related to members of the Suffolk County Fire District Managers Association (S.C.F.D.M.A.).
Read More »
Remembering Past Fires Highlights Need for Safety Precautions
2013 marks the 10-year anniversary of the deadly fire at The Station nightclub in Warwick, Rhode Island. The fire claimed the lives of 98 people, and injured 81 people.

The fire began when a pyrotechnics display used inside the club ignited material in the building's ceiling. Although the Station had more than four functioning exits, with lit EXIT signs, many people panicked and tried to leave using the same exit. The exit became blocked, trapping people inside. These people died, not as a result of the fire, but from inhaling the thick, black smoke that contained chemicals which were given off when the fire occurred.

Another tragedy occurred in March 2009 when four group home residents were killed in a fire in Wells, New York. This tragedy caused the state and the non-profit community to re-evaluate fire safety for people with special needs. New fire codes were established and the non-profit community developed new ways to train their staff to assist special-needs residents to prepare for fire emergencies. YAI, in conjunction with the New York Fire Department, developed a training DVD titled "Fire Safety for Staff Working with Individuals with Disabilities," which uses actual residents to demonstrate evacuation procedures.

These tragedies, and others like it, reinforce the need to remember basic fire safety practices. Always be aware of your surroundings, know where all exits are at all times, be prepared to act quickly and calmly, have an evacuation plan and be sure to practice the plan. Being prepared will save lives.

Briscoe Protective Systems Inc. Receives $1,000,000 Sales Award at Edwards Systems Technology Conference

On April 27, Briscoe Protective Systems Inc. was honored at the Edwards Systems Technology Conference in Scottsdale, Arizona for achieving $1,000,000 in sales. Briscoe was named to Edwards Systems Technology's 1 Million Dollar Club during a special awards ceremony at the conference.

Briscoe was one of the few EST fire equipment distributors to achieve the $1,000,000 mark in sales and receive the honor from EST.

EST is one of the nation's premier manufacturers of state-of-the-art Engineered System Fire Alarm Products.

Pictured (right): Bob Williams, President and David Miranda, Vice President of Operations.