We Specialize In:

• Designing custom fire alarm & security systems for commercial, industrial and institutional clients.

• Providing 24-hour radio-dispatched service for all major brands of equipment.

• Detailed full-service inspections that meet code requirements.
We Are Fire Alarm and Security System Professionals
Serving New York &
Long Island Since 1978


November 2013



Centereach Fire Department Successfully Launches Unique Initiative to Protect Local Families from Carbon Monoxide and Fire Danger
Just One Life, a community service initiative designed to protect residents from carbon monoxide (CO) and fire danger, was recently launched with an inaugural event at Centereach Fire Department.
Read More »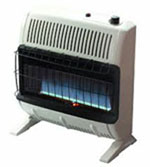 J.R. McCotter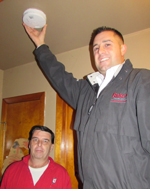 Don't Let Space Heaters Increase Your Risk of CO Poisoning
During the winter months, many people often rely on space heaters to keep warm and avoid skyrocketing home heating bills.

The risk of doing so can be life-threatening. Gasoline or other fossil fuel-powered space heaters are a leading cause of carbon monoxide poisoning. Combustible fuels can become trapped in enclosed spaces, instead of being vented to the outdoors. A gas powered space heater that is not properly installed or vented could spread a harmful amount of carbon monoxide into a room, and limiting the circulation of oxygen that is crucial for human survival.

It is imperative to install carbon monoxide detectors on every floor of a home, especially if there are gas powered space heaters in use. Each year, nearly 400 people die from carbon monoxide poisoning that derives from fuel-burning appliances such as space heaters, according to the United States Center for Disease Control and Prevention.

Briscoe Protective Systems Inc., has partnered with local fire districts to implement a community service initiative called, "Just One Life." Just One Life is focused on providing and installing life safety devices for members of the local community, in an effort to potentially save lives from smoke and CO poisoning. For more information on life safety devices and the Just One Life initiative, please contact Briscoe Protective Systems Inc. at 1 (888) BRISCOE (274-7263) or visit www.briscoeprotective.com.

J.R. McCotter Recognized for His Service on the Board of Directors for the Long Island Alarm Association
Briscoe Protective Systems Inc. has announced that J.R. McCotter, Chief of Technical Services, was recognized for his service on the Long Island Alarm Association's Board of Directors and his contribution to the association's Fire Marshal Liaison Committee.
Read More »
Briscoe Protective Completes First Installation for the Just One Life Program
On November 12, Briscoe completed the first installation of the fire and carbon monoxide alarms as part of the Just One Life Program.
Read More
Coded & Voice Systems • Design & Consultation • Service & Inspections
FDNY Accepted Full Service Fire Extinguisher, Smoke Detector & Fire Alarm Maintenance Company
Monitoring Systems • Fire Equipment Sales • Sprinkler & Standpipe Alarm Systems
Violation Removal & Appeals • Free Educational Presentations • Free Fire Safety Conferences
Copyright © 2013 Briscoe Protective Systems Inc. All rights reserved.
99 Mark Tree Road • Centereach, NY 11720 • Tel: 631- 864-8666 • Fax: 631-864-8444
116 West 23rd Street • Suite 500 • New York, NY 10011 • Tel: 212- 643-8833 • Fax: 877-847-1285
NYS Lic. #12000032751
UNSUBSCRIBE