Bert Briscoe Award of Distinction Awarded to Maranatha and Human First
On December 16, 2015, the Bert Briscoe Award was given to Michael Bailey and Ramdeen Seecharen from Maranatha.  Both maintenance workers are extremely helpful, friendly, reliable, and go above and beyond to do a great job.  They never lose their cool and are respected by all the consumers living in the group homes.  Michael and Ramdeen are very resourceful with their building maintenance, which provides great cost savings for the company.  Maranatha is fortunate to have both of them.
Marantha Human Services offers broad-based systems of community services to creatively assist individuals and those who are disadvantaged to solve problems faced in their daily lives.  Trained professionals serve the individual by creating linkages among human services through the co-operative effort of government support and private sector innovation.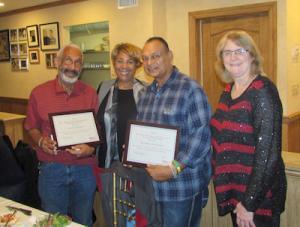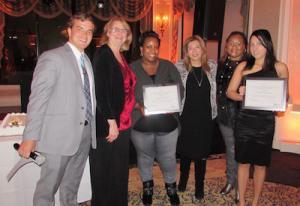 On December 17, 2015, the Bert Briscoe Award was given to Dainya Bruno and Marisol Estrada from Human First.  Dainya Bruno is a DSP Team Leader at Human First's Brooklyn Day Hab program in Canarsie.  She is known for her enthusiasm, strong personality, and ability to engage and motivate the individuals with whom she works.  In the 7 years she has been with Human First, she has consistently stepped up to the plate, taking on additional responsibilities and ensuring that the day program runs smoothly, in line with the agency's high expectations.
Marisol Estrada is the Assistant Coordinator at Human First's Queens Astoria Day Hab Without Walls program.  She is a natural leader who always ensures her group is on the move and purposeful in their program activities and daily skill-building.  She was recognized for her willingness to assume additional responsibilities and her ability to quickly retain new information, never hesitating to take on challenges and ensure smooth transitions for incoming individuals requiring more support.
Human First's mission is to provide greater opportunities for individuals with special needs to reach their personal goals.  They are dedicated to developing support systems for both individuals and their families.
Recipients receive a monetary award and framed certificate.  "The Award is named in memory of my grandfather, Bert Briscoe," said company president Bob Williams. "It symbolizes his belief that the things you make in life create who you are, and that the most important thing you can do is make a difference in the lives of your fellow man." This philosophy inspired Briscoe Protective Systems' own mission statement of, "People Helping People Make a Difference."