Briscoe Protective Systems Present the Bert Briscoe Award to Dennis Winchester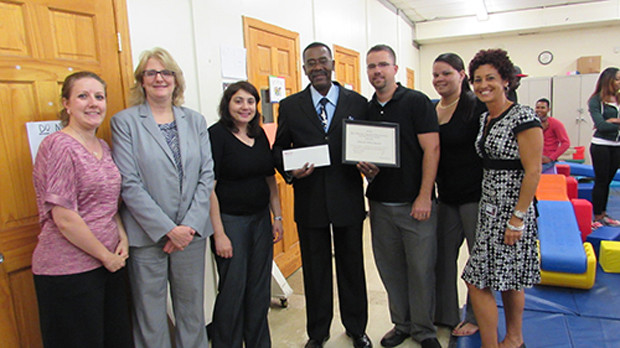 On September 30, Denise Rueda, Public Relations Director, and Marisa Erickson, Assistant Service Supervisor, Briscoe Protective Systems, presented the Bert Briscoe Award to Dennis Winchester, Early Education Center at Quality Services for the Autism Community (QSAC).
Mr. Winchester was honored for his hard work and dedication, his rapport with the staff and students, as well as being a dedicated worker. He is respected by his fellow co-workers, takes pride in his work, and is a pleasure to work with. He goes over and above the normal scope of his job, including woodworking, repairs to ceiling and walls, plumbing, repairs to furniture, etc.—no job is too big or too small. As part of this award, Mr. Winchester received a $500 check and a framed certificate.
QSAC is a metro New York-based non-profit that supports children and adults with autism, together with their families, in achieving greater independence, realizing their future potential, and contributing to their communities in a meaningful way. Through direct services and a supportive and individualized setting for children and adults, QSAC works to improve communication, socialization, academic, and functional skills.
"As a company, Briscoe Protective Systems wants to show appreciation to a staff member of a nonprofit organization," Ms. Rueda said. "These workers are making a positive impact on the lives of the people they care for on a daily basis and they deserve to be recognized."
"The Award is named in memory of my grandfather, Bert Briscoe," said company president Bob Williams. "It symbolizes his belief that the things you make in life create who you are, and that the most important thing you can do is make a difference in the lives of your fellow man." This philosophy inspired Briscoe Protective Systems' own mission statement of, "People Helping People Make a Difference."