Leake & Watts Staff Receive Briscoe Award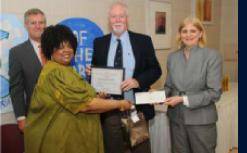 Two Leake & Watts staff members — Cynthia Stanislous- Robinson, Crisis Intervention Specialist for Family Foster Care, and Anthony Aponte, Teacher's Aide at Biondi Elementary School – have been honored as "Employees of the Year." In recognition of their service, the two have also been presented with the Bert Briscoe Award by Briscoe Protective Systems. The presentations took place at Leake and Watts's Annual Employee Awards Dinner hosted on May 12, 2010 by the Board of Directors and Executive Director Alan Mucatel.
The Briscoe Award is given annually to honor the memory of Briscoe's President's grandfather, Bert Briscoe, who insisted on the importance of corporate responsibility to the community. Briscoe Protective Systems designs, monitors and services fire and security alarm systems with a special focus on meeting the needs of nonprofit human service agencies. The award was given to Stanislous-Robinson and Aponte after Briscoe selected Leake & Watts as this year's non-profit recipient. Denise Rueda and Jim Caroll of Briscoe Protective Systems Inc. commemorated each of the employee's hard work and dedication as they presented them with a plaque and a $250 savings bond. As part of the award presentation Mucatel shared examples of the distinction that the seven distinguished employees displayed in order to earn the Employee Excellence awards. Five other employees were honored for Employee Excellence in the areas of Respect, Achievement, Safety, Responsibility, and Management, and over 80 employees were recognized for 5, 10, 15, 20, 25, or 30 years of service to the organization.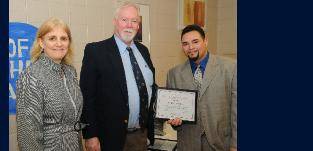 The Employee Excellence Award in the category of "Respect" was awarded to Humphrey Crump (Mt. Vernon), Teacher at the Carol and Frank Biondi Education Center. The Employee Excellence Award for "Achievement" was awarded to Yasmin Scott Davis (Bronx), Child Care Counselor at the Leake & Watts Mother/Infant Program. The Employee Excellence Award for "Safety" was awarded to Roger Reyes (Yonkers), Maintainer with General Services. The Employee Excellence Award for "Responsibility" was awarded to Cedric Chapman (Manhattan), Residential Habilitation Assistant for Developmental Disabilities Services. The Employee Excellence Award in the category of "Management" was awarded to Leslie Wright (Yonkers), House Supervisor at the Residential Treatment Center.