Centereach Fire Department Successfully Launches Unique Initiative to Protect Local Families from Carbon Monoxide and Fire Danger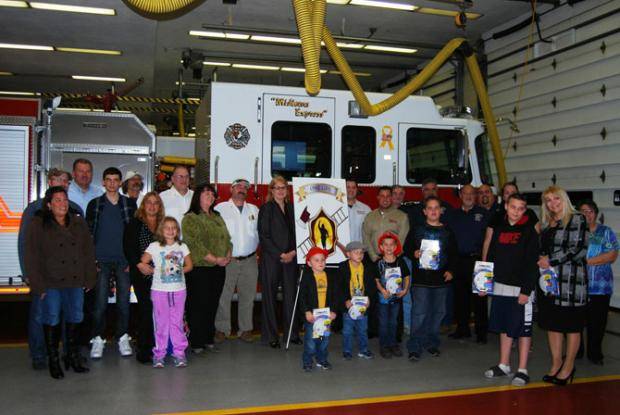 Briscoe Protective Systems Teams Up with Fire Department to Provide Devices to Suffolk County Residents
Just One Life, a community service initiative designed to protect residents from carbon monoxide (CO) and fire danger, was recently launched with an inaugural event at Centereach Fire Department. The Board of Fire Commissioners, along with the Chiefs of the Centereach Fire Department, were joined by representatives of Briscoe Protective Systems, a premier supplier of fire alarm, security, video and access control products, on October 29th to welcome local families as the first beneficiaries of the Just One Life program. During the event, each family was given a smoke/CO detector.
"Briscoe is honored to partner with fire districts like Centereach, whose volunteers risk their lives daily for our communities, and work to promote fire safety awareness by giving out devices," said Bob Williams, President, Briscoe Protective Systems "What makes the Just One Life initiative unique is taking fire safety an additional step, by ensuring the devices are installed in the homes. I am proud of the Briscoe staff volunteers whom have stepped up to install the devices into the homes."
According to the National Fire Protection Association, (NFPA), almost two-thirds of home fire-related deaths result from the absence of properly functioning life safety devices. NFPA also notes that fire-related deaths are more frequent between December and February.
As winter on Long Island approaches, the importance of having these devices in the home becomes critical. The Just One Life initiative allowed Centereach fire officials to identify local residents who could benefit from the program. Recipients were selected based on financial or physical limitations. These families will have the units installed during the next few weeks, and over the next month, the initiative will continue with more device handouts and installations at the other Suffolk County Fire Districts that are cosponsoring this program in their communities. The intent is for the Just One Life initiative to be an annual fire safety program.