NYFAA Members, Briscoe Protective Systems and Electronix Systems Donate Toys To The Stony Brook University Burn Center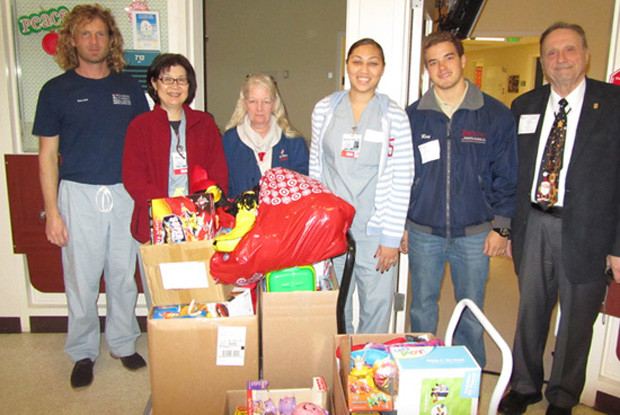 Local company Briscoe Protective Systems and Huntington based Electronix Systems are NYFAA (New York Fire Alarm Association) members. They represented the Association by bringing toys to the Stony Brook Burn Center where children currently in the Center and children who go back to the Center on an outpatient basis received the toys.
Briscoe's Raymond Williams and Ron Petrarca from Electronix brought the toys to the Burn Center Staff Members Shanelle Kong RN, Chris Marshall RN, Mabel Wei RN and Elena Bergami Clerk. Ron collected many toy donations which also went to other Burn Centers in the metro area on behalf of the NYFAA. Since the association works in the Fire Alarm Service Industry, concern for burn victims is close to the heart of the membership and they reach out to Burn Units with monetary and toy donations.
Stony Brook University is the only designated burn center for more than 1.5 million Suffolk County residents. It coordinates burn care services throughout the county, and provides a resource for training and research in burn care.
The Suffolk County Volunteer Firefighters Burn Center Fund is a non profit organization, run by volunteers from the Firefighting, Public Safety, Medical and Research disciplines, dedicated to raising funds for the Burn Center and Living Skin Bank. For more information on how to donate to the fund please contact Denise Rueda at 631-864-8666 Ext 214.