Three Students Receive Bert Briscoe Memorial Scholarship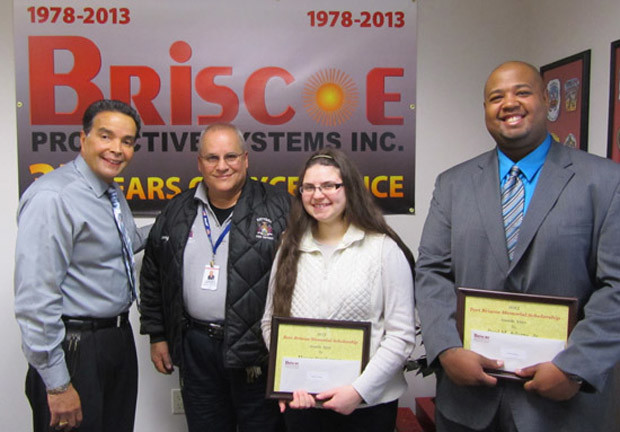 On April 3, Briscoe Protective Systems announced the winners of the Bert Briscoe Memorial Scholarship. The recipients are three students, related to members of the Suffolk County Fire District Managers Association (S.C.F.D.M.A.).
Megan Sunderman, a student at William Floyd High School, received a $500 scholarship. Runners-up included Paul M. Adams, Jr., who is currently attending Adelphi University, and Daniel Scura, who is a student at the State University of New York at Cortland; they will each receive $250.
Megan and Paul were given a tour of the company and presented with a framed certificate, a scholarship check and a luncheon in their honor. Daniel was unable to attend the event, and a luncheon will be given in his honor at a future date. The winners were chosen to receive this award based on their financial need, community service, career plans and the exemplification of Briscoe's core value of giving back.
The scholarship is named in memory of Bert Briscoe, the grandfather of Robert P. Williams, President of Briscoe Protective Systems. Larry Santangelo, President, S.C.F.D.M.A. and Manager, Sayville Fire District, was instrumental in bringing this scholarship opportunity to the Association.