Bundled Services
Briscoe Protective Systems now offers bundled fire services for your fire protection and security needs.  A customized package can be put together to suit your organizations specific needs.
Briscoe has your back! One Call, One Bill.
BUNDLED SERVICES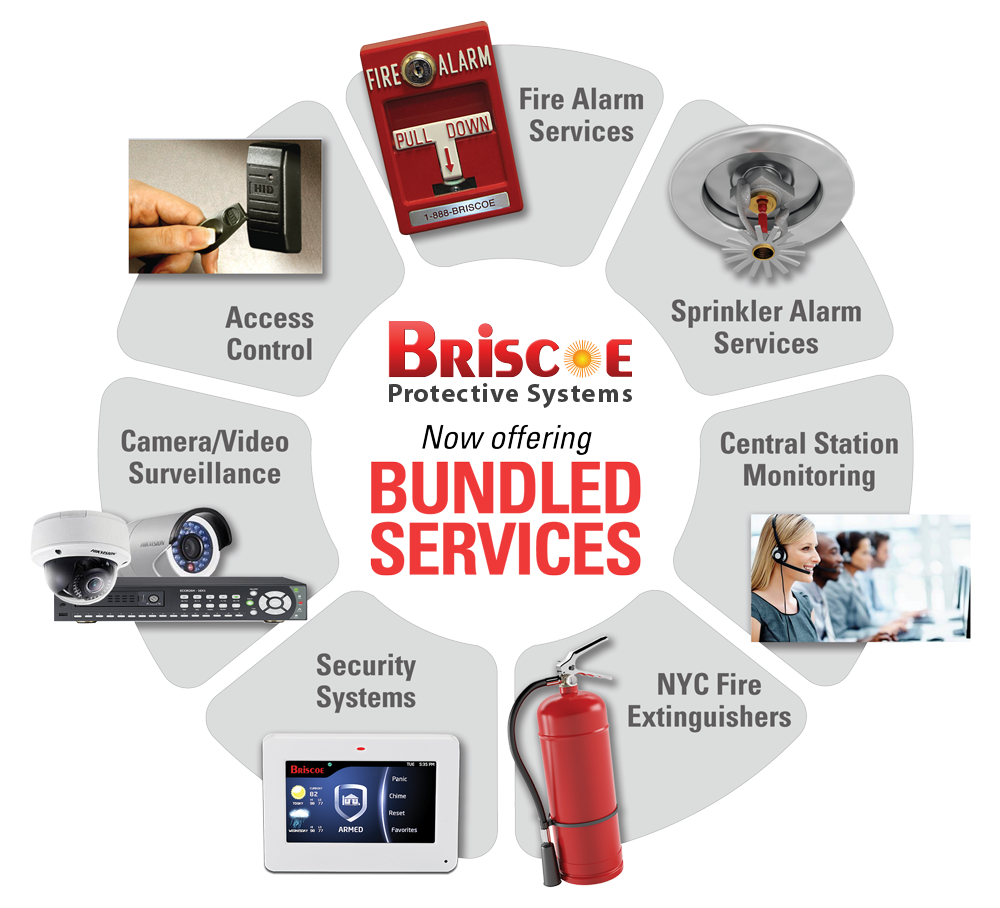 Included Services:
Fire Alarm Services:
As an EDWARDS Strategic Partner, we have exclusive access to products, custom design innovation, specialized training and pricing privileges.  We are also available for inspections, maintenance, trouble shooting, violation removal and repairs of most manufacturers systems.
Sprinkler Alarm Systems:
We arrange for inspections, testing and maintenance of existing sprinkler alarm systems.  All tests and maintenance follow NFPA and local code requirements.
Camera/Video Surveillance:
Keep an eye on your facility with camera/video surveillance. We offer high definition, infrared, and low-light cameras with remote viewing so you can check in no matter where you are.
Access Control:
Control who goes where within your facility. Access control can grant access to sensitive areas to authorized personnel, track employee movement throughout the building, and prevent unauthorized access.  You can receive reports and messages to your cell phone.
Central Station Monitoring:
Your fire and security system can be monitored 24/7, so whenever an alarm is set off, the proper emergency responders can be dispatched.
Security Systems:
Our state-of-the-art security systems with remote access keep your facility as safe as possible.
NYC Fire Extinguisher Services:
Briscoe performs or arranges for sales and maintenance of Portable Extinguishers, Recharging, Hydrostatic Testing and "Weight, Check and Tag" Inspections on all A, B, C, D, K, CO2, Water Halon Units. Fire extinguishers are required to be properly mounted, maintained, inspected and tagged by a licensed certified company and undergo regular inspection and maintenance.
You are required to have portable fire extinguishers throughout your workplace even if you have a sprinkler system. All work performed is completed according to New York City Fire Code and/or NFPA 10.
Contact us today and learn how to save.
Call 1-844-823-0747
Briscoe Protective's bundled services offers your business the most comprehensive protection in the most convenient way.