March 2020
NEW Product from Edwards™ – Signature Optica Detectors offered for purchase through Briscoe Protective, LLC
Centereach, NY, March 3, 2020 – Briscoe Protective is excited to announce a new product offering from our partner, Edwards™.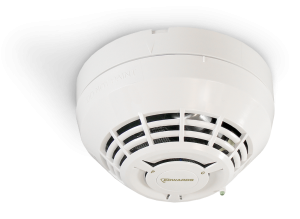 "Introducing the Signature Optica smoke detector from Edwards™, part of a next-generation detection system engineered for modern materials and environments. Already certified to UL 268 requirements, Optica's state-of-the-art sensor technology differentiates between burning food, steam or multiple types of fires, and responds appropriately. Delivering smart detection that alarms faster and more accurately than ever before, Optica sets the standard for intelligent response to today's threats."
These new smoke detectors "bring advanced optical sensing technology to a practical design" which increases efficiency, saves time and money on installation and increases life safety and property protection capabilities. They also minimize false alarms and disruptions in a building which is a common problem in a commercial building.
Optica smoke detectors have a combination of optical smoke detection with rate-of-rise heat sensing technology and can efficiently identify smoldering fires, as well as fast flaming fires. With the addition of CO monitoring, this detector continually monitors conditions in a room or area for signs of fire and carbon monoxide, an odorless, colorless and deadly gas.
To learn more, please contact Briscoe at 631-619-9416.
About Briscoe Protective:
Since 1978, Briscoe Protective and its team of experienced professionals have brought world-class solutions, with fire and security alarm products and services of superior competitive quality and unparalleled value. Briscoe provides factory-trained technicians with NICET certification, in-service training, software support, preventative maintenance inspections, computerized equipment, engineering and drafting, code compliance and more. Briscoe has locations in New York City, Long Island & Westchester. For more information, call 631.619.9416 or visit www.briscoeprotective.com.
About Edwards™:
For over 140 years, Edwards™ has been a global leader in fire alarm, mass notification and hazard warning. Whether Edwards™ detection and alarm solutions are protecting the lives and livelihoods of the people who make businesses run, or who receive treatment at healthcare institutions; whether they're charged with protecting students, staff and faculty at the world's finest universities, or preserving irreplaceable artifacts that bring humankind's history to life; Edwards finds innovative ways to meet site-specific challenges and make every project a success.