Did you know?
All assembly and commercial occupancies in New York State MUST install carbon monoxide detectors by June 2015!
Carbon monoxide is a dangerous gas that sickens or kill hundreds of people each year.  Carbon monoxide legislation varies by occupancy type and building location.
LET BRISCOE HELP YOU STAY COMPLIANT
Contact us today or fill out the form to set up a FREE INSPECTION of your building to see how you can conform to your local code.
As a public service, Briscoe is offering a free presentation to local businesses and organizations on the dangers of carbon monoxide and how to protect the public while complying with new local laws. The presentation will discuss carbon monoxide basics, what the new local codes entail, and new compliance requirements for your business.
Briscoe can come to your location or host the presentation at our corporate headquarters in Centereach. In addition, Briscoe will offer a complimentary site evaluation of your existing system to see how it can interface with the newly required Carbon Monoxide detection devices.
---
Download & Share Our CO Safety PSA: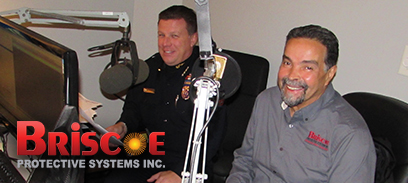 Michael Uttaro
Nassau County Assistant Chief Fire Marshal


If you can't hear the above, download the .mp3 file
Bob Williams
CEO, Briscoe Protective Systems

If you can't hear the above, download the .mp3 file
---
Play the video below to hear Briscoe CEO Bob Williams and Nassau County Assistant Chief Fire Marshal Michael Uttaro discuss the dangers of Carbon Monoxide and the steps you can take to protect against CO poisoning.